Having your Lawn Aerated
Most people don't know that lawn aeration can drastically increase the effectiveness of normal irrigation, pest control, and fertilization. Lawn aeration is also know as aerating, coring, and aerifying. An aerator pulls plugs out of your soil. Having your lawn aerated will help loosen compacted soil which allows water and air to reach the roots. This is a good way to help your lawn with little stress to the roots.
Aerating stimulates thatched decomposition, and increases water and air saturation, as it relieves the compacting of soil. The best time to have your lawn aerated is when growing is most active, and when the soil is moist enough to allow for the deep penetration, eliminating shock to the lawn. Thus spring is a great time to aerate the soil, although it can also be done in the fall.
If your lawn has had a lot of traffic from children playing, parked cars, boats, or other equipment, then it is vital to your lawn to open the soil through this aerating process, to provide better drainage and a healthier lawn.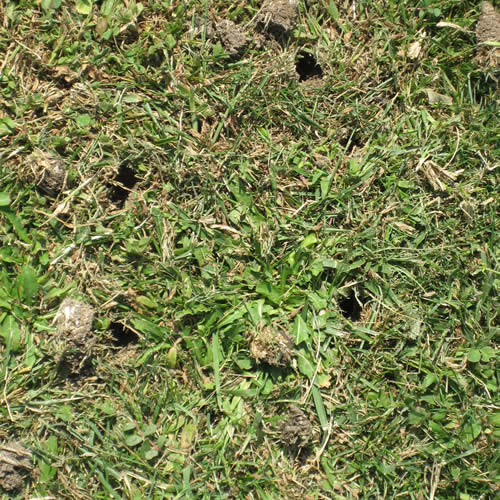 ---
Benefits of Having your Lawn Aerated
1. Aerating your lawn causes better air exchange. It opens and gives your lawn's roots more room to breathe.
2. Lawn aeration improves fertilizer absorption. This is because the aerations opens up the soil, allowing more food to reach it's roots.
3. Lawn aeration leads to more efficient water usage by letting the water travel directly to the roots.
4. Lawn aeration helps enhance thatch breakdown. Millions of beneficial microbes live in your soil and eat thatch which is removed by the aerating process.